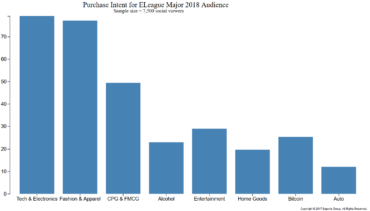 Esports continues to grow as a disruptive force. Case in point: 420M will be watching competitive gaming by 2019 (Newzoo estimate).
While game titles like League of Legends and Overwatch dominate headlines with multi-million dollar franchise values and media deals, Counter Strike: Global Offensive (CSGO) quietly remains an esports powerhouse.
Exhibit A: Turner Sports' ELeague Boston Major Grand Final registered more than 1.13M concurrent viewers – breaking its own all-time record for a single Twitch channel set last year.
Accordingly, let's investigate how non-endemic product categories fare with the ELeague audience.
Approach
Our eSports iQ analytics platform profiled the social data of 7,500+ English-speaking ELeague Boston Major viewers.
Specifically, consumer conversations that indicate positive purchase intent/history for products or services. An index value of 0 (unlikely) to 100 (very likely) was then calculated for product categories.
The result: Data-driven insights into the buying behavior of CSGO esports fans.
What you should know about ELeague viewers
9 times more likely to consider purchasing a gaming-related vs. esports product
Purchase intent for esports is nearly 5 times stronger than traditional sports
Bitcoin and esports intent are within 20% of each other
Streaming is a major influencer for gaming related purchases
Live event attendance boosts esports purchase intent by 28%
Why it matters
Numbers don't lie. ELeague's record-breaking viewership is a tantalizing opportunity to capture attention and increase awareness among millennial-minded audiences. Plus, the data shows (click image to enlarge) definite purchase intent across several non-endemic categories.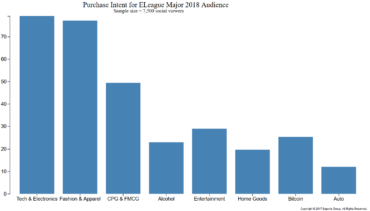 Intent to buy is a strong justification for brand marketing spend. The hard-to-reach nature of esports audiences, coupled with Turner Sports' experience producing premium content for linear platforms, only strengthens the case.
Key takeaways
Adidas' apparel partnership with North, an ELeague team, is a great example of brand alignment with a product category this audience is already interested in buying
Gaming most strongly influences the consumer experience
Esports fandom is just one part of a wider gaming lifestyle – streaming, playing games (other than CSGO), etc.
---
Join the esports industry's #1 weekly newsletter for FREE! http://eepurl.com/b_Cca
The post ELeague Audience Insights 101 appeared first on eSports Group.
(13)