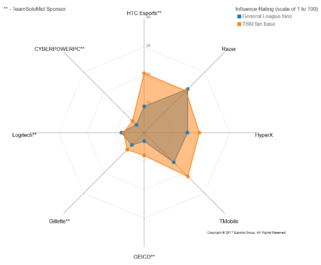 When it rains, it pours. As noted by The Next Level, 25 non-endemic brand deals in esports have already been announced in 2018. And every new deal seems to open the door for another.
Since several partnerships are at the team level, e.g. Dr. Pepper/Team Solomid and Snickers/FlyQuest Sports, let's take a data-driven approach to answering the following:
What's the best way to influence esports team fans/supporters?
How does brand marketing affect team-oriented fans vs. general fans?
How can sponsors make the most of visibility and exposure?
Approach
We built an audience model from the social data of 4,000 fans and supporters of TeamSoloMid's League of Legends team. The results are key insights that brand sponsors need to know. Things to note:
Our AI-powered software uses social data to make true predictions about audience behavior
Influence measurement is a proxy for awareness and share of voice (based on social media engagement)
TSM fans = Supporters of TSM's League of Legends team only
What you should know about TSM fans
TSM mid-laner Bjergsen is 77% more influential than US President Donald Trump
53% consume or create non-esports content on Twitch
30% more likely to use Instagram vs. Facebook regularly
54% are very likely to be influenced by brand name when making product purchases
46% are traditional sports fans
Team sponsorship ROI
To express the impact of brand marketing on TSM fans, influence ratios of four endemic (CyberPowerPC, HyperX, Logitech, Razer) and four non-endemic brands (GEICO, Gillette, HTC, TMobile) were measured. Click image below for larger view: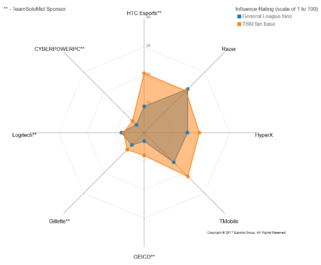 Non-endemic brands have 56% more influence among TSM fans, compared to general League esports fans. This is a direct indicator that sponsorship can/does return significant brand lift within a team's fan base.
Similar levels of performance (on average) by the endemic and non-endemic brands is also key. Plus, 77% of TSM fans are unlikely to be influenced by online ads, which further strengthens the case for team partnerships.
Key takeaways
Brands and teams both benefit from growing fan engagement together
Creative featuring pro players taps into powerful dimensions of team and player influence
Mountain Dew's strategy of sponsoring multiple teams is a great way to multiply reach and exposure
Success is found by aligning with existing interests, not shoving product in the audience's face
---
Join the esports industry's #1 weekly newsletter for FREE! http://eepurl.com/b_Cca
The post TSM and Esports Sponsorship ROI appeared first on eSports Group.
(12)